Insights
Scaling digital service to transform healthcare delivery
key fact
Scaling digital services to transform healthcare delivery has the potential to significantly improve patient outcomes, increase access to healthcare, and reduce costs.
The introduction of Integrated Care Systems (ICSs) into health and care provision gives an opportunity for ICS partner organisations to converge on shared Digital, Data and Technology (DDaT) services where appropriate. Standardising DDaT services across multiple ICS partners brings benefits of working at scale. In this insight paper, Paul Fountain-Edgar – our Head of Health and Social Care – discusses these opportunities and how ICSs and their partners might go about implementing them.
Integrated Care Systems came into existence through The Health and Care Act 2022. One of their objectives was to allow for provider collaboratives:
"Provider collaboratives will bring providers together to achieve the benefits of working at scale across multiple places and one or more ICSs, to improve quality, efficiency and outcomes and address unwarranted variation and inequalities in access and experience across different providers."

Source: NHS England
These provider collaboratives must enable the delivery of service at scale to:
improve outcomes in population health and healthcare

tackle inequalities in outcomes, experience and access

enhance productivity and value for money

help the NHS support broader social and economic development.
Multiple stakeholders with different motivations, adaption of health services to specific local needs, and complex financial pressures mean that offering clinical-facing Digital, Data and Technology (DDaT) services across ICS partners is difficult. However, there are still opportunities for Chief Information Officers (CIOs) to collaborative to deliver standard foundational services, products, and processes across an Integrated Care Systems that will deliver the benefits of operating at scale.
CIOs collaborating to offer DDaT services across an ICS can provide benefits in a number of ways. Standard services can be more cost effective to deliver through economies of scale. It can also be more cost effective for higher service levels such as longer service desk operating hours or service availability. They can allow scarce DDaT staff to have an impact across a larger user base.
Choosing which DDaT services to converge across an ICS requires careful selection to deliver benefits without constraining adaption to local needs. Moving to delivering DDaT services at scale must be underpinned by thorough planning and a full understanding of the consequences.
At Mason Advisory, we have partnered with a wide range of healthcare providers to exploit digital and technology transformation opportunities for working at scale. Some business scenarios that are areas for early improvements include:
User-Centric Approach:
A user-centric mindset becomes even more critical when working at scale. In healthcare, there is little that is more important to clinical and support staff than having reliable devices with access to the right digital services to do their jobs. Providing the right devices, with the correct level of user access, means the 'Joiners, Movers, and Leavers' (JML) process is critical. The benefits of standard devices and shared JML processes between ICS partners include simplified device management and processes bringing economies of scale and the potential for an uptick in user satisfaction.
Delivering timely data and system access to workforce devices
Service Optimisation:
Working at scale necessitates the optimisation of services to ensure that systems and applications perform efficiently, even under heavy usage. Even at scale, the user experience should remain paramount. Therefore, all services should be designed to handle significant user demand and interactions without compromising responsiveness or usability. No function is more critical in this area than the service desk, which is the user's window into all digital and technology services. Operating a single, potentially virtual, service desk across multiple ICS partners simplifies processes and tooling and consolidates scare technical staff.
Optimising patient care through service desk enhancements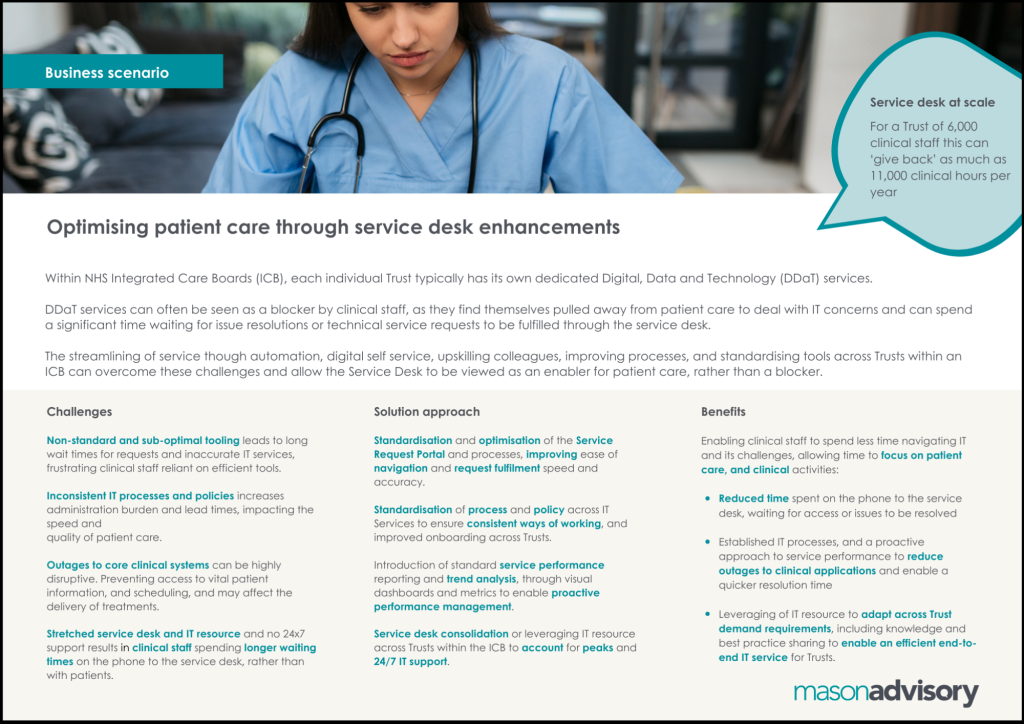 Digital Resilience:
Technology infrastructure plays a vital role in any organisation, and this is even more crucial in a health setting. Digitisation has meant that more health services rely on technology which must be always available and resilient to failures. One key opportunity for working at scale is the provision of disaster recovery. This core service, while essential to protect all health and care systems, clinicians, staff, and patients, will only be actively deployed in situations of emergency, outage, or cyber-attack. So, in an Integrated Care System, a shared common disaster recovery capability can provide availability assurance to multiple ICS partners at a reduced cost and with limited additional operational risk.
Assuring availability of clinical technical services through effective disaster recovery
Cloud Computing:
Cloud services are fundamental for scaling digital and technology operations. Cloud platforms offer on-demand technology resources, a wide range of digital products, and UK-wide distribution options. Ensuring that Cloud services are secure is vital to facilitating effective care provision through collaborative digital products. The benefits of shared Cloud services and products between ICS partners, include simplified technical and financial operations, increased digital resilience, economies of scale, and more effective deployment of scarce technical staff.
Delivering clinical excellence through cloud services
Finance Management:
Delivering anything at scale will have cost implications, especially if there are no immediate scalable benefits. It can often be cost prohibitive to design solutions to work at scale in the short term. However, with improved approaches to licensing and purchasing across digital and technology services, it is possible to acquire effective short-term service contracts and volume-based cost reductions across ICS partners.
Enabling scalability of clinical services through improved licencing and purchasing
Security:
Securing clinical services at scale through improved cyber security
The ability of any technology or digital service to accommodate growth and handle increased demand – without compromising performance or data security – will be critical to improving the delivery of clinical outcomes. A scalable and secure technology infrastructure ensures that technical resources can be added or removed as needed to meet changing requirements. ICS partners can build and share scalable digital products on reusable components to meet an ever-growing demand for healthcare services.
In summary, digital and technology at scale requires a combination of a willingness for ICS partners for long-term collaboration, technical expertise, efficient processes, and a focus on delivering value to end-users. Embracing technology innovation and best practice empowers ICS partners to evolve efficiently and effectively in an increasingly demanding and pressured landscape.
Mason Advisory has developed a range of services, for Integrated Care Systems to support their partners deliver at scale with a positive knock-on for both performance and financial benefits. Our typical focus for an initial review would cover:
If you would like to speak to Paul regarding this insight or any of the business scenarios, please send your enquiry to contact@masonadvisory.com to discuss further.  
If you want to find out more about our services click here.