News
Why your IT function shouldn't be based on one standard or framework
There are several components to an operating model and the first step is to identify what capabilities the CIO requires to help them deliver the IT and business strategy.
Read Naveed Umar's article on 'Why your IT function shouldn't be based on one standard or framework'.  Here's a snippet…
How does the CIO ensure their department engine is running smoothly and where they need to think carefully about the operating model design i.e. what capabilities are needed, how they should be organised, how they will work together, and what they need to help them operate smoothly and deliver the IT and business strategy.
To read the full article click here
If you would like to read our other insight articles click here.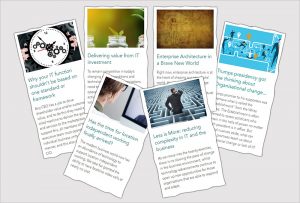 For more information on our services and how we can support your IT needs, please email contact@masonadvisory.com